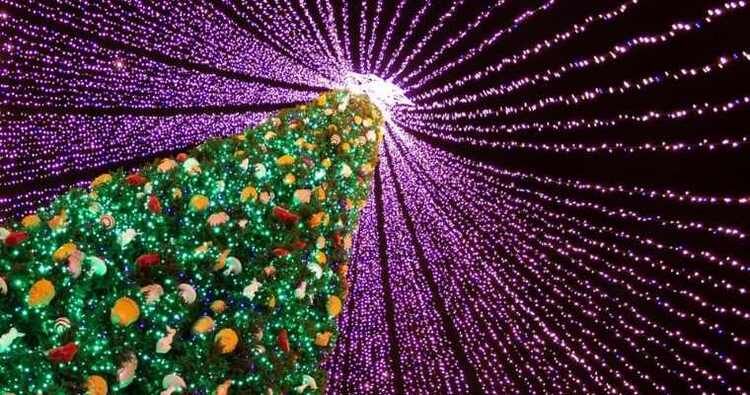 ---
I felt like Christmas really crept up on me this year. I was even feeling a little like the Christmas Grinch! So, to get into the festive spirit and include my greatest passion (TRAVELLING), I set about putting together some of the most spectacular Christmas Tree displays worldwide for an Instagram reveal, the 12 Days of Christmas Trees.
1. A sight to behold
There are a few good reasons why I'm starting with this tree. Firstly, it was a memorable stop on my first ever overseas holiday decades ago!
It was also named The World's Largest Christmas Tree in 1991 by the Guinness Book of Records.
It's more commonly known as the Gubbio Christmas Tree. Yes, that's a light display in the shape of a Christmas Tree on the side of a mountain!



Overlooking the ancient medieval town of Gubbio, located in Umbria, Central Italy, is really is the most incredible sight!
Walking the cobblestone streets of any village in Europe at Christmas is always special. Still, with the mountain sparkling away above you, it adds a particular something to your stay that you just can't experience anywhere else.
The tree is 650m high and 350m wide at its base
Made up of 3000 multi-coloured lights
It uses 8.5km of electrical cable
It is visible up to 50km away
The mountain is called Mount Ingino
A volunteer group offers 3 months of their time each year to continue this tradition, celebrated annually since 1981.
2. A nod to Tokyo's quirkiness
Only in Japan, right?
This one caught my eye as something cool and unique and definitely embodying the quirkiness of the Japanese.
It is called the Tree of Resonating Colours of Life. It is 8 metres high and made from different sized spheres that make sounds and change colour when touched, causing a change in neighbouring spheres and making the whole tree an interactive artwork!
It is located at the Venus Fort shopping centre and was created by teamlab, an international art collective group. Their museum teamLab Borderless is also connected to the shopping centre if you like what you see!
Thanks to @instaworld_app for this unique tree image.
3. An absolute must for any Christmas Tree list
What would any Christmas list be without NYC? This is the stunning Rockefeller Centre Christmas Tree in New York City.
This year's tree is:
a Norway Spruce from Elkton, Maryland
24m high and 14m wide
approximately 85 years old
It's also topped by a Swarovski star weighing approx 408kg and covered in 3 million crystals! How very New York!
4. Mele Kalikimaka from Hawaii
Now you know how to say Merry Christmas in Hawaiian!
This gorgeous play on tradition is a tree made from Poinsettias at Kahala Mall. Kahala is a neighbourhood of Honolulu on the east side of the island of Oahu in Hawaii.
Kahala is also a really great place to stay on your next trip to Hawaii if you want some of the Hawaiian lifestyle without the crowds of Waikiki. There are some brilliant family resorts that those in-the-know don't want us to tell you about!
Mahalo Hawaii for this beauty!
5. Bravo Berlin
Check out this amazing post and photography thanks to @berlinstagram for a stunning view of Berlin's Brandenburg Gate at Christmas time.
I'm adding this one to my Christmas wish list and following this account for more stunning images of this iconic city.
6. The Queen with crown and all
Not only a dazzling centrepiece at the Vilnius Christmas Market⁠ in Lithuania⁠but also a sustainable tree with an extraordinary story! ⁠
⁠
The 6,000+ branches are all REAL tree branches cut from damaged trees during forest maintenance, not cut just for the purpose of construction, which we love.⁠
⁠
The design is inspired by decorations found during archaeological excavations around the Ducal Palace in Vilnius, dating back to the 14th - 15th centuries.⁠
⁠
Amazing!⁠
7. Spectacular Spectacular
Thank you to @travelassociates_beecroft for this one.
"The gorgeous Galeries Lafayette in the heart of Paris - central location and high-end shopping - sign us up This tradition started in 1920 and was done as a celebration for the employees of the centre.⁠ The huge tree spans over four stories and is decorated with a different design each year.⁠ Add Paris to the list for Christmas and go check out this amazing tree" ⁠
⁠
8. A different perspective
This beauty lets you walk inside and look ... up! The spiral of light magic INSIDE the Christmas Tree at La Puerta del Sol Madrid.



This famous Christmas Tree is a 35m high cone-shaped construction that is open to the public, so you can head inside, look up, and snap this incredible display of swirling lights for yourself.⁠
⁠
If Christmas lights are your thing, be sure to take Madrid's Christmas Tour Bus to experience all the main Christmas light spots and attractions.
9. The fairest of them all?
I have to say, it's tough to choose with so many stunning displays on offer, but I think this is my favourite of all of them. This majestic Christmas Tree is from Sofia Square, Ukraine⁠.
⁠Those gorgeous Eastern Europeans really know how to do Christmas lights!
With tourists and locals alike flocking to the square to see this fantastic structure (and a skating rink in the square too), you can imagine what a fun and joyous place this would be to celebrate Christmas.
10. Santa Claus' Christmas Tree
We can't leave out the Christmas Tree at Santa Claus' place! Santa's Village lies across the Arctic Circle in Rovaniemi, Finland.⁠⁠
Don't forget to grab your Arctic Circle stamp from Santa Claus Main Post Office, inside the Village. You can also buy a certificate showing you crossed the Arctic Circle from the Info desk. ❤️ Cute! ⁠
11. Where it all began
Bethlehem, where it all started. Thank you to @bethlehembaubles for this stunning image of the Christmas Tree in Manger Square, outside the Church of the Nativity.
The most significant site for celebrating Christmas is, of course, Jesus' birthplace. I love how it's classic and straightforward without all the bells and whistles, as it should be in this traditional and most sacred place.
12. Home, sweet home
MERRY CHRISTMAS from SYDNEY, AUSTRALIA!
The Martin Place Christmas Tree is the tallest in NSW and comprises 15,000 Australian flowers, including our banksia, waratah, bottlebrush, wattle, eucalyptus gum flower, kangaroo paw and more.
It is decorated with over 110,000 lights, over 300 baubles and topped with a 3.4-metre star that changes colour.
Have a wander through Martin Place to experience the magic of an Aussie Christmas.
No matter where you are in the world or what your holiday season looks like, I wish you and your family a very Merry Christmas and a Happy New Year, full of travelling the world (or whatever else makes you happiest)!
Anna
Travel Agent Finder