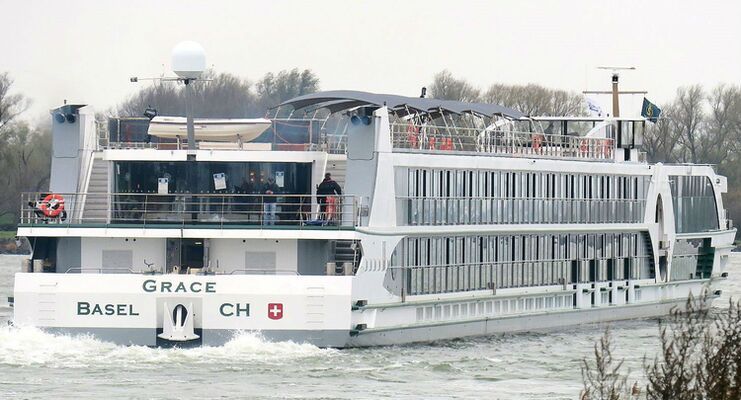 ---
Best Time to Take a European River Cruise - Rhine, Danube & Main Rivers
September is perhaps the best month of the year to take a European river cruise with a perfect blend of weather and lighter crowds than the European summer high-season.
Most popular season: June-October
Shoulder season: March-May, September-December
Avoid: January-March
The Main River of southern Germany connects the Danube River to the east with the Rhine River to the northwest. As the Rhine's largest tributary and the primary artery between two of Europe's longest rivers, cruises that include the Main River are usually a bit longer - between 7 days and three weeks, crossing central Europe.
Make sure that you know what to expect in whichever season you choose to plan your cruise. The cruising season starts in March and runs through December, though the most popular time to visit is either during the warm summer months or during the festive Christmas Markets of December.
Located right in the centre of the European continent, the best time to cruise the Main River is also the best time to cruise the Rhine and Danube Rivers.
Summer River cruising on the Rhine, Main, and Danube June to August
Hot sunny days are perfect for relaxing on the river or participating in the array of activities and tours that you will be enjoying your river cruise. The temperatures reach their peak in August, with some days and nights that are hot - if you like warm but not hot weather, plan to travel in June or September.
Springtime along the Main River - from March to May - is a cooler, rainier season, but if you don't mind the damp weather it can be a good time to secure some deals. Just beware that heavy snowmelt or rain might cause your itinerary to be modified if the riverboat can't clear low bridges along the route.
The shoulder season for European River cruises is autumn (October-November), when temperatures begin to fall. This can be a beautiful time to see the leaves change colour along the river valley while enjoying pleasant (though occasionally chilly) temperatures.
If you don't mind colder temperatures and hope to experience one of the most festive times of the year in Germany, consider taking a Christmas Market cruise in November or December. While you won't be able to do some of the summertime activities, you won't be disappointed as you explore the vibrant plazas and diverse Christmas Markets in each town along the way, bringing to life centuries-old traditions.
OUR PERSONAL JOURNEY ABOARD TAUCK ms GRACE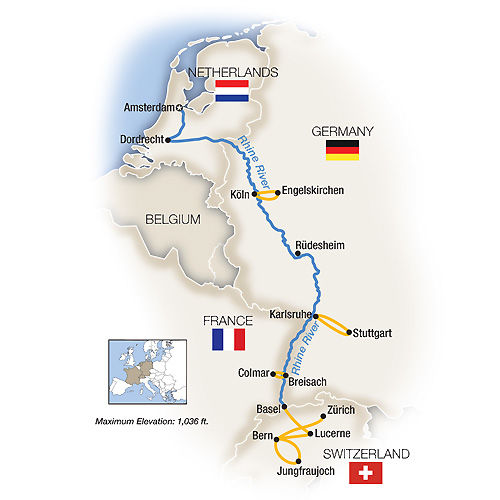 Amsterdam to Basal & Scenic Switzerland
What an incredible and fully inclusive journey. The concept of River-cruising is very different from that of Ocean-cruising, and for those wondering just how different, I hope this blog will explain!
Let us kick off to say there are no waves!
Let us continue to say 'There are NO hidden costs either'
Perfect kind of sums it up.
Rather than just arrive in Amsterdam to join our River Cruise, Tauck offers one night stay – aboard – pre cruise so we just had to get the feel of the city. Like, who wouldn't? The city is vibrant; it's a city with international culinary delights and one that buzzes all night.
Just being in Amsterdam was a highlight before we set off on our 10 day legendary Rhine River cruise PLUS Switzerland experience.
TAUCK RIVER CRUISE BLOG
One thing for sure, before I give an account of our Rhine River Cruise, we chose Tauck (rather Tauck chose us) because we felt it was of combined-interest that we experience the very best cruise operator in the region. Best, as in – No. 1; we were aware of their very fine reputation. And seemingly that's the score; particularly that myself and our team at Donna Barlow Travel have booked many guests aboard Tauck where each customer has returned and provided the most positive feedback.
***
Our Tauck arranged transfer to the vessel was at the airport waiting for us. A Mercedes Benz sedan; a friendly driver with all the info you'd want to know about Tauck and Amsterdam.
Our luggage, on arrival, was swiftly moved to our stateroom and even though we boarded early, around 9am, it's nice to know that Tauck has arrival information for their guests and staterooms are prepared accordingly.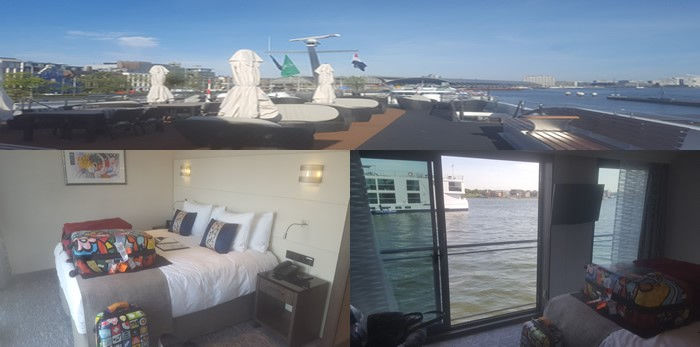 STATEROOM
It was huge, comparable to a medium-sized bedroom in a city apartment. When I say huge, it was larger than expected, much larger than a standard-type cabin aboard an ocean liner.
Hanging and draw space was adequate, certainly for any cruise up to around 14 or so days.
The bathroom was galley-type: long and narrow but the shower was full size, in fact larger than some at home (was so nice to shower and not feel like you're in a capsule)
The stateroom had all the mods & cons; flat screen TV, radio, alarm clocks and did I mention space? It had a table and chairs and small sofa. And truly, that's all you need!
OFFICIAL PROGRAM – EX AMSTERDAM
Amsterdam is called the Venice of the North, its network of canals winding through a romantic historic centre of cobbled streets, gardens, shops, cafes, and wonderfully preserved Dutch Renaissance architecture.
We boarded a canal boat in the morning for a tour of the city from the inside (the best way to see it) along 17th century waterways lined with trees, gabled merchant houses, and vibrant urban life. Our tour included a visit to the Rjiksmuseum, a national museum of art and history, home to masterpieces of the Dutch Golden Age, including Rembrandt's Night Watch and Vermeer's The Milkmaid.
After lunch aboard the riverboat, we had time to explore the city on our own; Amsterdam's urban landscape is intimate, laid-back, and made for exploring, brimming with shops, art museums, coffeehouses, and eclectic architecture.
Evening dining was aboard Tack Grace as we set off toward the Rhine River.
CRUISE ITINERARY
On this 10-day trip including a 7-night river cruise, Amsterdam is the starting point, as you follow the romantic Rhine on its winding journey from the Netherlands to the Swiss Alps.
Amsterdam – Köln (Cologne) – Rudesheim – Stuttgart – Colmar – Basal (and Switzerland)
Along the way, we experienced a Tauck Exclusive evening of dinner and music at Schloss Ehreshoven, a visit to the windmills of Kinderdyke, and much more.
CANALS & RHINE RIVER SYSTEM
Day one, having set off from Amsterdam, we arrived at the windmills of Kinderdyke. This tour included a farm visit and we were divided into three groups; 2 coaches to the windmills and one; to the farm. Later in the day, the two groups were scheduled to swap attractions. We were part of the two-coach group, attending the windmills first… until the skies opened up.
I have never seen rain like it! Lightning struck and thunder roared. Luckily, we still got to see the working windmills but we made a decision to skip the farm given most of the Netherlands is well below sea level. But it was our choice, half of the guests continued the farm and battled the weather albeit the sun was shining an hour after?
Once we boarded our riverboat; thawed out and showered etc, the night ended after a beautiful meal as the vessel continued her journey from the canal toward the Rhine River.
NOTE: The first couple of days or so is just a canal. As picturesque as it is, the Rhine River is still two or so days ahead with our first stop being Cologne. Cologne was the first magical port on the Rhine River, a beautiful city and one alone that's make the whole river cruise worthwhile!
TRAVEL TIP FROM DONNA: If you are looking to book a River-Cruise in Europe, there are many wonderful rivers and canals to cruise across the continent. I have cruised on many brands and I will say it's important that you book the right brand that suits your budget and understand the difference in the pricing and inclusions across the different brands. I would be delighted to consult you and craft your next dream holiday. Whether it's River-Cruising or Ocean-Cruising - I can help you make the right choice! Call me anytime 0418 465 245 or send me a message here.
"Take only memories, leave only footprints."
---