---
Ketchikan is a township at the south-eastern tip of Alaska and the gateway to the inside passage.
It was a beautiful morning as we pulled into town. I was pleasantly surprised. There was magnificent scenery and a busy little picturesque port. It is well known as the Salmon Capital of the world. I knew little about this part of the world except that it had a colourful past, with bootleggers and prostitution playing an important part. It would be fun to explore the streets, check out "Dolly's House", Married Man's Trail, and see what Salmon were at the Salmon ladder. With such a short time before our tour departed, it was just a quick walk down the street and peeking into a few shops. Ketchikan is quite an eccentric town with shops such as Sock Eye Sams, Rainforest Cannabis, The Stoney Moose and Crazy Wolf Studio spread along the way.

Ketchikan, Alaska
Today we were going to take a boat ride to Silverking Lodge where we were to have a seafood feast.
The trip was entertaining as we managed to see some wildlife along the way. It was fabulous to see a magnificent Bald Eagle in its nest. The crew threw meat in the air, and the Eagle would swoop down and catch it mid-flight. An incredible sight. I am sure it is a daily event, and the Eagle waits patiently to perform each day, a version of meals on wheels for a busy scavenger.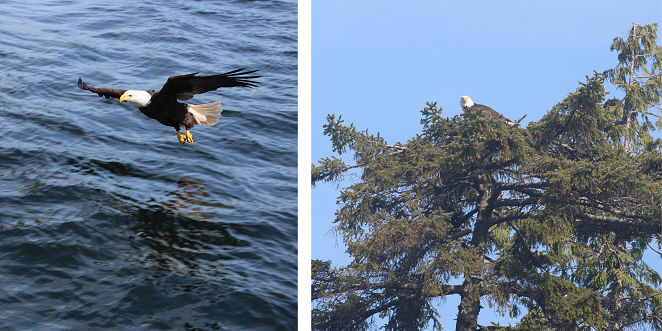 Bald Eagle
We watched quietly at another secluded outcrop as two Sitka Black Tail deer played and then carefully watched as we slowly motored by. A pod of seals played off the shoreline, their little heads bobbing in the bay. It was so small we almost missed it, but struggling just a little further on was another Bald Eagle with a fish it caught. It was too heavy to lift, so we watched as it bravely paddled to the beach, fish in tow. If only we were close enough for a good photo since this is a rare sight.
When we arrived at Silverking Lodge, we were greeted by deer grazing happily in the yard. We took a walk into the rainforest to see the largest Red Cedar in the Tongass National Park. I loved all the wildlife we saw.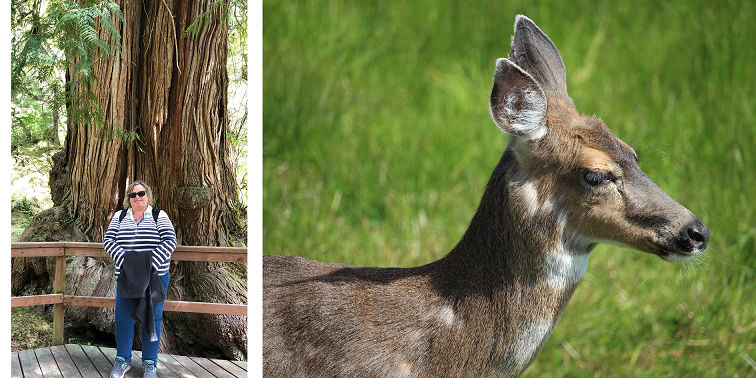 Alaka Wildlife
The trip's highlight was back at the lodge, where we feasted on a magnificent seafood boil. We could see the big pots steaming away but had no idea what was in them. We took our seats at tables covered in newspaper as the cooks emptied the big pots onto the tables. Once the steam cleared, we saw piles of Dungeness Crabs, Shrimp (or prawns if you're an Aussie), mussels, clams, sausage, corn, garlic and pearl onions. It was 'fingers in and eat'. The most beautiful smelling hot French bread partnered the meal. Something so simple but such an extraordinary experience. I am unsure how my family would react if I served the food straight onto the table. Perhaps the response: Yeah, no washing up!

Silverking Lodge Dining Experience
After many thank you handshakes and compliments on the meal we were off back to the boat for our trip home to our floating hotel, the Norwegian Joy.
If I can help you plan your time in Ketchikan or your cruise of the Inside Passage, please send me a message and I'll be in touch!
---