---
Ocean and River Cruise Comparison


Which cruise is better for you: ocean or river?


It's difficult to go wrong when it comes to enjoying a cruise on the river or the sea. Both provide breathtaking views, opulent amenities, and the chance to visit fascinating ports.
However, each has its own set of advantages and depending on your exact requirements for your next trip, one may be a better fit than the other. So, what are the most significant distinctions?
One significant distinction is intimacy. River cruises are often significantly smaller (under 200 passengers vs. up to 6,000 on the largest ocean cruises). This means you'll be engaging with other passengers and staff members much more frequently.
This lower scale is reflected in every aspect of the river tour. You eat at tables with other passengers on a regular basis (wine is included in the price of the cruise). Instead of ten kids' playrooms, glamorous Broadway musicals, and a skydiving simulator, river cruise amenities are more modest – consider libraries, an exercise room, cultural programs, and free WIFI. River cruises are popular among couples seeking quiet and relaxing time together because there are few, if any, children on board.
On a river cruise, you visit a new port virtually every day, frequently for walking excursions through charming cities, and you're never far from land. Ocean cruises, on the other hand, can have several sea days without seeing land. With this in mind, it could be said that Ocean Cruises take passengers to destinations, whereas River Cruises take passengers through destinations.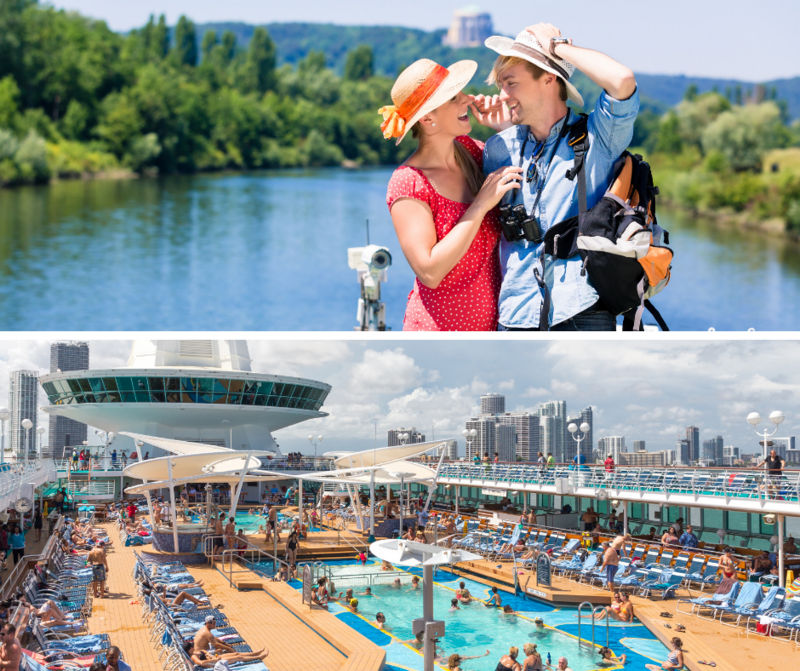 Ocean cruises, due to their bigger size, provide a number of possibilities for people of all ages, from toddlers to retirees, and are frequently more equipped to meet a variety of unique health needs. As a result, they are often the greatest choice for multi-generational family gatherings with small children. Ocean cruises offer a wide range of activities onboard, as well as a larger variety of day excursions, for those seeking more choices.

Here are some things to think about when you plan your next cruise holiday:


1. How many people are going on this trip? What are their ages?
2. When do you want to travel?
3. Do you require the extravagance of a mega ship's amenities, such as spas, gyms, a dozen restaurants, and a plethora of activities? Or are you looking for something a little more relaxed, intimate, and low-key?
4. Are you looking for genuine cross-cultural encounters? Do you prefer to be in more familiar surroundings?

As always, I'm available to talk about your next cruise. We can take a look at the different parts of your trip — what you need, want, and dream of — and work together to create a cruise that you and your loved ones will remember fondly for the rest of your lives.
Book a Free Appointment

COVID Travel Rules Support and Assistance is provided to all WorldLee Journeys clients.
If you are still considering your next trip, take advantage of our $250 Travel Credit for future use
Claim your $250 Travel Credit
Travel is one of the most wonderful gifts you can give yourself.
LeeAnne Talbot (Luxury & Bucket List Travel Expert)
Visit WORLDLEE JOURNEYS