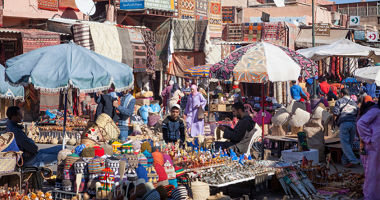 ---
Marrakesh is known as the "Red City" due to most of the buildings being coloured Salmon Pink. It certainly is a romantic city with a beautiful glow at sunset as we set off to explore the famous Souks and Market Square at Djema-el-Fna. We entered the Medina through an old gateway and walked through narrow alleyways, back streets and cobbled paths before walking out into what felt like a carnival atmosphere. The main square in Marrakesh is a party for the senses. Smell, touch, taste, sight and hearing, all overwhelmed by the chaotic scene that is in front of you.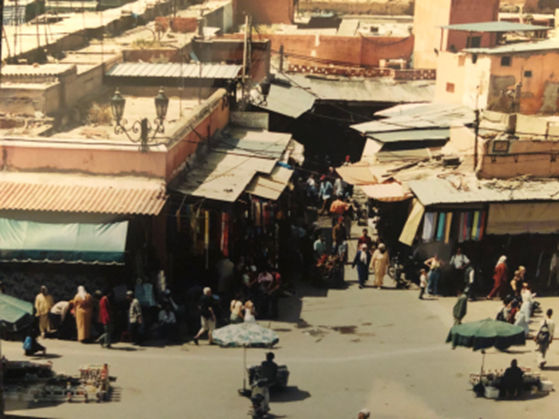 Our first thought was to go deep into the souk and see what we could buy. Both Ken and I are keen hagglers so were excited by what we may find. There appeared to be some sort of order in the mayhem. Each skill appeared to be in its own conclave. Silversmiths were together where across the way the blacksmiths gathered and in turn the woodworkers turned their trade further on into the Market Place. Ken had suggested a leather jacket for the cold Toowoomba winter, so we explored until we came to the leatherwork.

Just to set the scene: The stalls are small, perhaps the size of a bathroom at home. The wares, in this case, leather jackets, are hanging from every part of the structure, sometimes 2-3 deep. As you look, and naturally feel the items, eagle eyes follow you and will you to buy. Now back to the story…..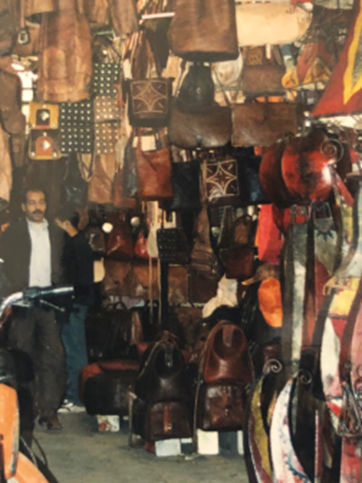 Ken found the Jacket that he liked. It was a great fit, quite a light colour but assured it would darken with age. Our merchant was dressed in a long black flowing robe, a hood falling down his back. Picture a Sickle in his hand and he looked like the grim reaper. We felt we were very successful in our haggling and agreed on a price. Out came the plastic, and to our dismay, they would not accept credit cards. After a short discussion, it was agreed Ken would go with one of the vendors to find an ATM and I would stay behind. Ken sped off on the back of a scooter, Horn hooting, disappearing into the crowd, and a look of bewilderment on his face. I stepped out of the stall due to the stuffiness and the heat. My new friend suggested I should wear a robe like his, as he does not wear underwear and so was quite comfortable. Hmm, not a discussion I would pursue!
My knight in shining armour appeared after about 45 minutes, with no cash in hand. The ATM's were not working and so he could not withdraw money. Defeated we turned to leave. My Grim Reaper friend then advised us he would happily take credit cards as cash was now not an option. Without any hesitation, we produced the card, accepted our wrapped parcel, and left the stall. What an adventure!
As we stepped out of the maze of stalls into the main square, we pondered whether we should have dinner. We could smell the spices, the BBQs and the Brochettes. We were tempted by the hawkers to try their creations but when we saw the snail soup and the steamed sheep's head, we declined.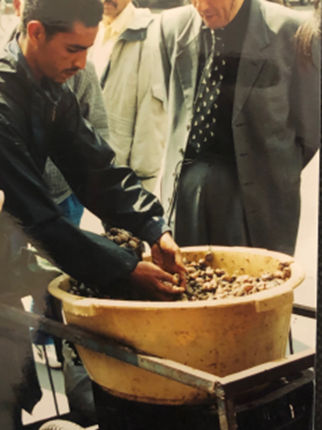 There was still plenty to keep us busy as we explored this fascinating square. There are the expected street entertainers, live music and fortune tellers but I was enthralled by the magicians and the medicine men, such showmen! I saw in the distance "tooth Pullers", why you would watch that, I don't know! We were wary of the Monkey Handlers (Macaques or Barbary Apes, now an endangered species) and the Snake Charmers (Snakes with their mouths either sewn shut or their fangs pulled), although part of the culture something I did not want to support. It is worth noting though that these performers or perhaps entertainers are not a recent creation for tourists, but a tradition that goes back hundreds of years. Each group is tightly controlled by a guild like society and handed down through the generations.
I was astounded when I realised we had spent hours here so it was time to head back to the hotel and perhaps have dinner and a drink in the bar. There was so much to talk about. We always do a debrief at the end of the day over a drink and it is always interesting the different takes we each have of the day's adventures. We took a horse and cart (why not!) back to the hotel. We followed a donkey pulling a cart part of the way. Incredible to see the old and the new forms of transport working together in what appears to be orderly chaos.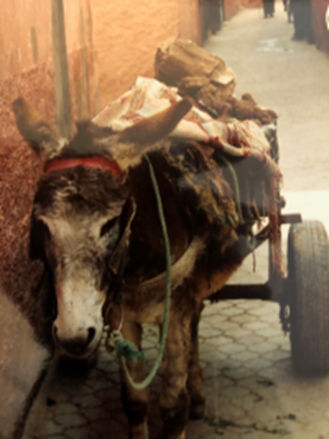 I will always remember the end of this day. Ken and I had our dinner and our drink and as we left the restaurant, we heard Doris Day singing "Que Sera Sera" whatever will be will be, and yes that was our day summed up perfectly.
I'd love to help you plan your trip to Marrakesh, with tips, advice and personal recommendations. Please send me a message and I'll be in touch!
---